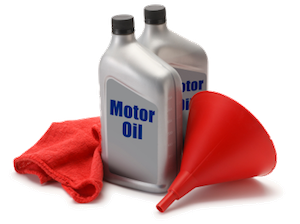 Oil Specifications Cheat Sheets for Organizations and for OEMs are Now Available!
We have created two awesome, extra-large, printable cheat sheets that you can use as reference any time. If find yourself needing this sort of information frequently, now you can hang it on your wall, use it as a desk mat, etc. They are both A2 sized (16.5 × 23.4 in or 420 × 594 mm) and they contain the same information that is available on oilspecifications.org.
You receive the cheat sheets as e-mail attachments to your email address registered with the PayPal service you will be using as payment provider.
Cheat Sheet for Organizations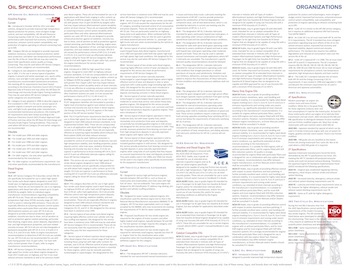 Contains the specifications issued by independent organizations, such as the American Petroleum Institute (API), the European Automobile Manufacturers' Association (ACEA), the International Organization for Standardization (ISO), the International Lubricants Standardization and Approval Committee (ILSAC) and the Japanese JASO organization. Price: 0.95 USD.
Cheat Sheet for OEMs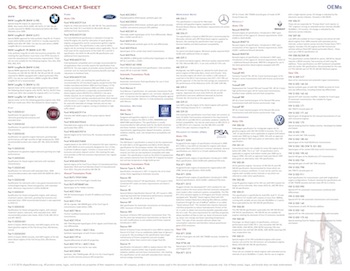 Contains the specifications issued by manufacturers, such as BMW, Fiat, Ford, General Motors, Mercedes Benz, PSA, Renault and Volkswagen. Price: 0.95 USD.