Note: This is a detailed explanation and comparison of VW engine oil specifications. If you are interested in the short descriptions, check here.
The Volkswagen Group is one of the largest car manufacturers in the world. Besides Volkswagen branded cars it also produces cars under the Seat, Skoda, Audi and other brand names. From motor oil perspective these brands have one thing in common: all of them require motor oils that meet VW oil specifications. Without knowing what they mean these specifications are less then straightforward. In this article we attempt to explain what do the various VW oil specifications mean and how can you select the most appropriate one for your car.
What is a specification?
A specification is an interface between an oil's physical and chemical properties and the car manufacturer's requirements. Nor car manufacturers nor lubricant producers are listing all the relevant properties in their data sheets. Car manufacturers combine a set of expected properties and test results in a specification while oil companies have their products tested for those requirements and show the earned specification or approval on the product as proof that their product is fit to be used where that particular spec is demanded. So specifications are codes, which we use to match oils with cars. By choosing an oil based on a specification we make sure that we choose the right oil for our car.
How do the different VW specs compare?
Currently there are 11 different VW motor oil specifications in use. Some of them were created in the 1990s, some of them after 2000. Some are recommended for gasoline powered cars some for diesels. Some are for normal drain intervals some are for extended drains. This means that not all of them demand similar performance levels from the oils. There are higher end standards and lower end standards and it's good to know which one to choose if you want an oil that excels in as many areas as possible.
VW
500.00
VW
501.01
VW
502.00
VW
503.00
VW
503.01
VW
504.00
VW
505.00
VW
505.01
VW
506.00
VW
506.01
VW
507.00

Sooth

Thickening

+
+
+
+
+
++
+
++
+
+
++
Wear
+
+
+
+++
++
+++
+
++
+++
+++
+++
Sludge
++
++
++
++
++
+++
++
++
++
++
+++

Piston

Deposits

+
+
++
+++
+++
+++
+
++
+++
+++
+++

Oxidative

Thickening

+
+
+++
+++
+++
+++
-
++
++
++
+++
Fuel Economy
-
-
-
++
++
++
-
-
++
++
++

Aftertreatment

Compatibility

-
-
-
-
-
++
-
-
-
++

Typical

Viscosity
Any
Any

0W-30/40

5W30/40

10W30/40

0W30

0W30/40

5W30/40

5W30
Any
5W30/40
0W30
0W30
5W30
More + signs always mean that the oil performs better in that segment. For example +++ in the Sludge category means that less sludge is formed in the oil not more.
Drain Intervals
As previously mentioned there are normal drain intervals and there are long drain intervals, the latter being called Long Life Service. The normal drain interval is available to every car but in order to choose the long drain interval you need two things:
an engine that is approved for long drain intervals and
an oil that is suitable to be used as a long life oil.
Most VW cars made after 2000 have the long drain interval option available. In case of gasoline engines this means 30,000 kilometers (cca. 18,641 miles) or maximum 2 years. In case of diesel engines this can be 30,000, 35,000 or 50,000 kilometers (18 641, 21 748 or 31 069 miles) or maximum 2 years. (These numbers may seem incredible to American car owners but motor oil development has come a long way and these figures are quite commonplace in Europe.) Long drain compatible vehicles are also equipped with a WIV service computer, which may decide to order an oil change sooner if the operating conditions are less than optimal (e.g. too many cold starts, too short trips, etc.).
What Determines the Recommended Specification?
There are a number of factors to consider when choosing a specification. The first and most important one is what does the manufacturer require. As you saw in the previous section, not all specs are created equal. So if an oil has a VW spec it doesn't mean that it's good for every car made by Volkswagen. If you check your car's manual you will see which spec if required for your car. But what if you don't have the manual or the manual presents you multiple choises or you just want to know what lies behind the curtains? Here are the most important things to consider when selecting a spec to go for:
Gasoline or diesel? Diesels burn hotter, they also put a bigger strain on the oil so a better fortified oil is required for them. Also the oil needs to be compatible with some special systems only used in diesel cars.
Do you need long life service or not? Most VW made cars offer the option to have longer drain intervals if you choose a better oil. So most of the time you will need a different oil if you want to take advantage of this possibility.
Is the car a PD TDI or not? If you have a diesel car with VW's unique Pumpe-Düse unit injector system that has an impact on the required spec.
Is your car equipped with a Diesel Particulate Filter? If yes then you must select a spec that calls for a so called low SAPS oil. If you use a regular oil you will gradually destroy your DPF, which is expensive to replace.
Do you use a VW made car with an R5 or V10 TDI engine? You will need a special oil for that.
Considering all that here is the chain of questions to ask yourself to determine what spec you should go for: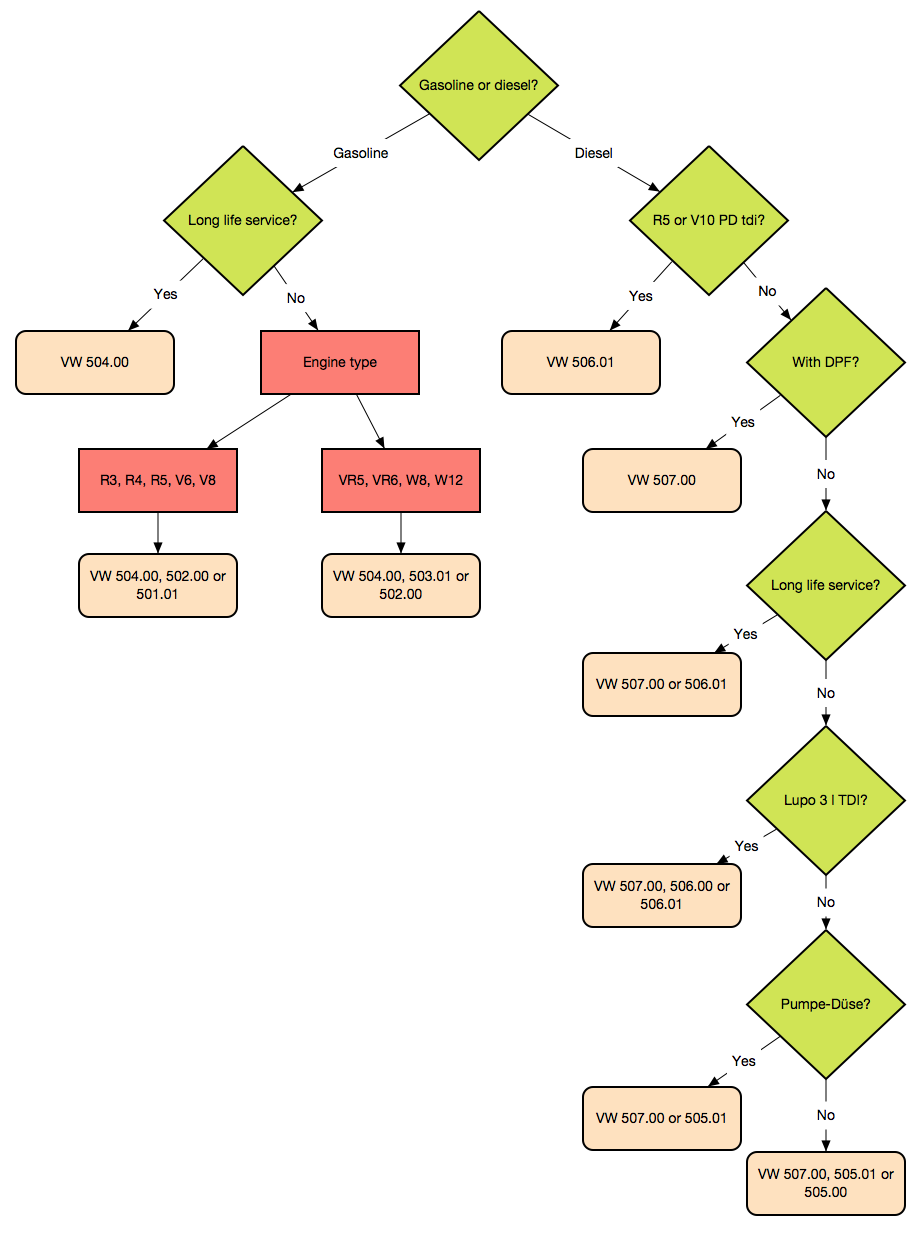 Now to the oils
Ok, now comes the easy part. You now know what spec you are after and you want to find an oil that meets that specification. Look no further! Our very own Oil Tool is designed to help you with finding oils that match a particular specifications. From the hundreds of VW approved oils you will certainly find what you need.